Covid-19 - Altered sea views on Barbados' west coast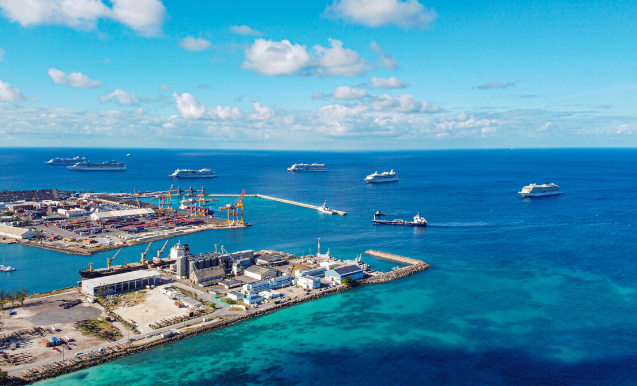 *Aerial taken by Tarik Browne
Since mid-March Barbados has been home to about a dozen luxury cruise liners following the suspension of operations of all cruise lines due to the Covid-19 pandemic. The Cruise Terminal of the Barbados Port Inc is accustomed to welcoming cruise ships, some of which have home porting arrangements (means the ships will take on / change over the majority of its passengers while taking on stores, supplies and fuel). Only in January 2020 The B'dos Port Inc announced that 2019 had been a record year for cruise ship passenger arrivals to Barbados of 853,200 visitors.
So seeing these cruise ships heading into and out the Port is a common sight to Barbadians but what has changed since mid-March is that about 12 of these mobile "mini-islands", many over 1,000 feet in length and up to 16 stories in height, have been sheltering in Barbados' waters – the whole length of the island's west coast - between the Port in Bridgetown and Moon Town in St Lucy.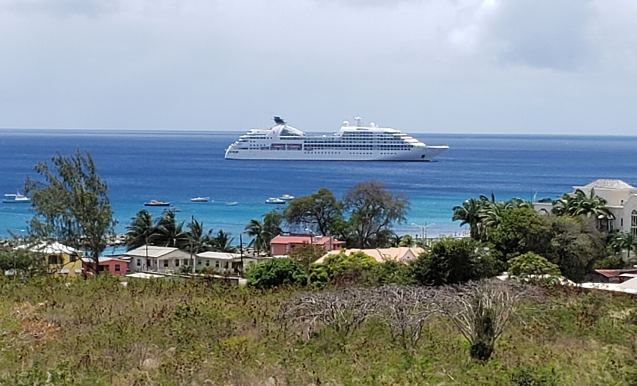 All businesses (except essential services) are closed in Barbados and residents are stuck at home so anyone that is lucky enough to have a west coast sea view is welcoming the Covid sea views of these graceful cruise ships moving up and down the coast, sometimes close to shore and sometimes very far off. When the sun goes down and the light fades to darkness the twinkling lights of the ships dot the horizon.
All the passengers have long departed so it's just crew on board and with no shore visits allowed for nearly nine weeks, the crew must be feeling really water-bound and missing their home countries. But while they are sheltering in Barbados we hope they are enjoying views of Barbados' coastline as much as Barbadians are enjoying the unusually close-up views of these amazing ships.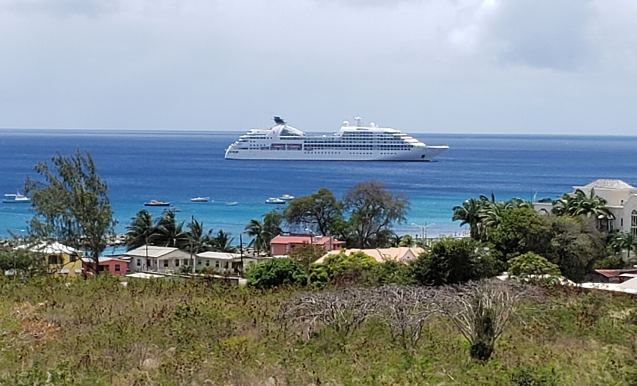 When the Covid-19 pandemic is over and the ships are bringing passengers and crew back to Barbados' shores to enjoy our island and attractions Barbadians will be here to welcome everyone back!
AIDA Perla captain bidding Barbados good buy and thank you after 1 month: