Ways To Maintain Your Beachfront Property's Curb Appeal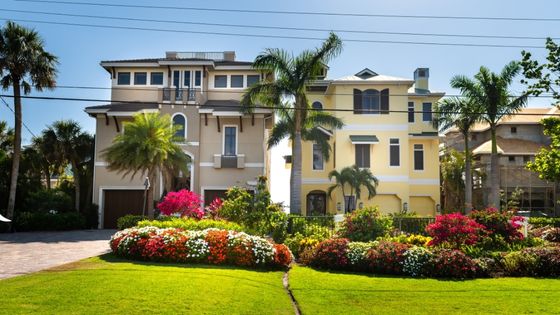 The white sand and crashing waves make beach houses a hot commodity, but that doesn't mean it's easy to maintain the ultimate beach paradise. Most people want to live in a home on the beach that has a coastal theme inside and out; therefore, beachy curb appeal is vital. Whether you're looking to sell, rent, or simply update your home, consider these fascinating ways to maintain your beachfront property's curb appeal.
Use a Beachy Color Palette
You may think a vibrant blue, pink, or yellow house is tacky or out of place; however, that's certainly not the case when it comes to beach houses. Having a home on the beach is much different than having a house anywhere else, and you should embrace the classic nautical colors. Bright colors will draw eyes to your home and instantly increase your property's overall curb appeal.
Whether you make the entire exterior a bright color or use colorful accents, you'll be on the right path toward making your home stand out. Beach houses are unique, and their colors should be just as creative.
Create a Welcoming Porch
The front door area is the first thing most people see as they approach your house; therefore, it should appeal to the eye. Many beach house owners like to paint the door a different color than the rest of the house to make the area pop. Furthermore, you can add an adorable welcome mat or sign to make your home more inviting to guests.
Design Tip
Using potted plants or small statues around your front door can make your porch feel more homey and decorated.
Utilize Simple Coastal Décor
Every beach house needs coastal décor, but overdoing it is possible. In fact, too much beachy décor can look tacky, especially on the outside of your house. However, a simple piece like a starfish, sun, or seashell as the focal point of your home's siding can make it look fun and coastal. If you're unsure what to use, start with a few small décor items for a minimal beachy aesthetic.
Many people rent out their beach houses, which is a possibility for you, too. Keep in mind, tourists are more likely to want Barbados luxury rentalsrather than places loaded with unstylish beach decorations.
Make It Look Relaxing
Because most people associate the beach with a lowkey lifestyle, your home will be appealing if you have spots to rest and sunbathe outdoors. There's nothing better than relaxing at the beach, and your home should reflect this lifestyle and state of mind. For instance, cozy outdoor furniture on your front or back porch can add to the nautical theme and portray the relaxing side of beach living.
Hopefully, these ways to maintain your beachfront property's curb appeal can help you create the ultimate beach house. Nothing beats living or staying on the beach, and your property should reflect the nautical lifestyle as a whole.