12 Month Barbados Welcome Stamp
Relocating to Barbados? Take advantage of our relocation guide for a seamless transition.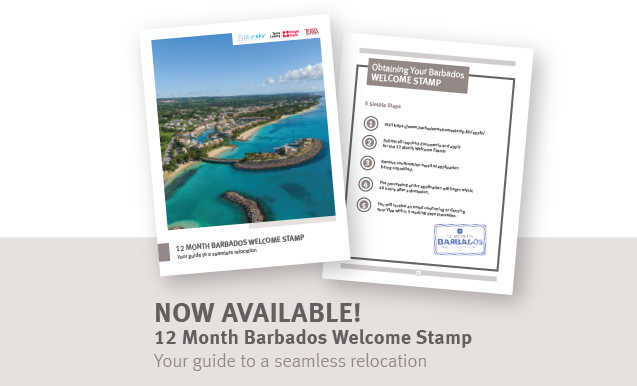 A reputable leader in the market and experts in Barbados long-term rentals, The Terra Group, comprising of Terra Caribbean, Terra Luxury, and Blue Sky Luxury have launched a comprehensive relocation guide suited to non-nationals looking to work remotely for up to a year on island.
Find your on-island home! The Terra Group offers a wide selection of villas, houses, apartments, and townhouses across the island specifically suited to remote working and a 12-month stay.
Our expert team of agents have an intimate knowledge of Barbados and are ready to help you with every aspect of your relocation. From finding your ideal on-island home and office to helping you choose the right school for your kids, we do it all.
Here's some key information from our 12 Month Barbados Welcome Stamp relocations guide:
Barbados Facts
Residency Options
Special Entry & Reside Permit (SERP)
Obtaining your Barbados Welcome Stamp
Your choice of Barbados long term rentals
Life in Barbados
Click Here To Download Our Relocation Guide
Need more information? Get in touch with one of our agents by contacting T: 1 (246) 434-9000 or E: info@barbadoswelcomestamp.com. Follow us on Instagram, Facebook, and LinkedIn for real-time information on protocols, must try on island and properties.