The Guys At Porters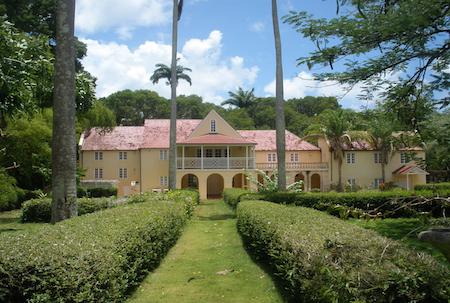 Featured: Porters Great House
Barbados has earned a reputation of offering prospective home owners not only stunning properties with incomparable landscapes and views but also sound investments with boundless possibilities. But according to Andrew Guy, one of the most understated benefits of owning a property in Barbados is the island's unique charm.
Now the proud owner of Porters house, Guy admits that the property was not his first option, but through the refined expertise of the Terra Luxury team, it was a match made in real estate heaven.
"I'll say it a thousand times - the team at Terra is lovely. We were actually in the process of buying a very small place, but because of the great relationship with them we decided on a property that we really wouldn't have bought."
Unlike other overseas-based homeowners, Guy is an exception to the foreign homeownership rule since he had no previous relationship or connection to the island and had only amounted a few trips over a short period of time before he decided to purchase on the island.

"I had read a book that was all about Barbados and its history of sugar (The Sugar Barons), so you could say that curiosity and my love of history drove me here. In fact, I hadn't been to the Caribbean before our trip to Barbados in October 2014. What I like about Barbados is that unlike the rest of the Caribbean, you've got not just beautiful beaches and ritzy hotels, but also many remnants of the island's history – the Garrison, plantation houses, St. Nicholas Abbey and all that other history that has not been erased from the island's landscape and is still there to enjoy.
"On top of it all, I was very amazed how kind, and considerate and polite the people of Barbados are. You have no idea how unusual that is – it really started to shape up as a place I wanted my children to call their home."
Despite a bit of marital resistance, Guy decided to take the plunge to invest in the Caribbean paradise. Accommodated expertly by sales manager at Terra Luxury, Rachel Edwards, Guy lauded the approach and overall professionalism, honesty and human element which she brought to the table during every step of the acquisition process.
"I was under strict instructions from my wife not to buy anymore properties, but the magic of this whole process trumped that. I've bought many houses so I'm very familiar with the experience, and I know that while other companies promise it, there was always a feeling of being completely and utterly looked after by Rachel."
Ultimately, despite the drastic departure from their initial plans, both Mr. and Mrs. Guy and family are elated in knowing they've made a sound decision by purchasing their home at Porters; and, in a broader sense, happy to call Barbados their home away from home.