Seeking a Brand Manager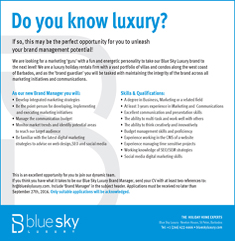 Do you think you have what it takes to build a luxury brand in the Caribbean?
If so, this may be the perfect opportunity for you to unleash your brand management potential!
We are looking for a marketing 'guru' with a fun and energetic personality to take our Blue Sky Luxury brand to the next level! We are a luxury holiday rentals brand with a vast portfolio of villas and condos along the west coast of Barbados, and as the 'brand guardian' you will be tasked with maintaining the integrity of the brand across all marketing initiatives and communications.
As our new Brand Manager you will:
-Develop integrated marketing strategies
-Be the point-person for developing, implementing and executing marketing initiatives
-Manage the marketing budget
-Monitor market trends and identify potential areas to reach our target audience
-Be familiar with the latest digital marketing strategies to advise on web design, SEO and social media
Skills & Qualifications:
-A degree in Business, Marketing or a related field
-At least 3 years experience in Marketing and Communications
-Excellent communication and presentation skills
-The ability to multi-task and work well with others
-The ability to think creatively and innovatively
-Budget management skills and proficiency
-Experience working in the CMS of a website
-Experience managing time sensitive projects
-Working knowledge of SEO/SEM strategies
-Social media marketing skills
This is an excellent opportunity for you to join our marketing team. If you think you have what it takes to be our Blue Sky Luxury Brand Manager, send your CV with at least two references to: careers@blueskyluxury.com. Include 'Brand Manager' in the subject header. Applications must be received no later than September 27th, 2016.